Welcome to the The Sword Coast Five Wiki
Edit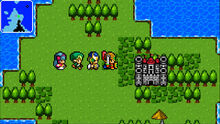 Dillon, Brenna, Sarah, Cale, and Mitch tolerate a game of Dungeons & Dragons being DM'd by Collin. We're all pretty new, but we're no strangers to fun.
The Campaign
Edit
The Sword Coast Five are adventuring under 5th Edition Dungeons & Dragons rules. There is flexibility to the rules with all official Wizard of the Coast books being allowed and plenty of homebrew options and rules at the discretion of the DM. The ultimate goal is having fun and making a compelling co-op storytelling environment. This game is set on the Sword Coast in an open world format with several campaigns available for the gang to interact with (or not). The Sword Coast Five are currently learning about each other and making a new home in Greenest.
General Information
Player Characters
Notable Non-Player Characters
Community content is available under
CC-BY-SA
unless otherwise noted.